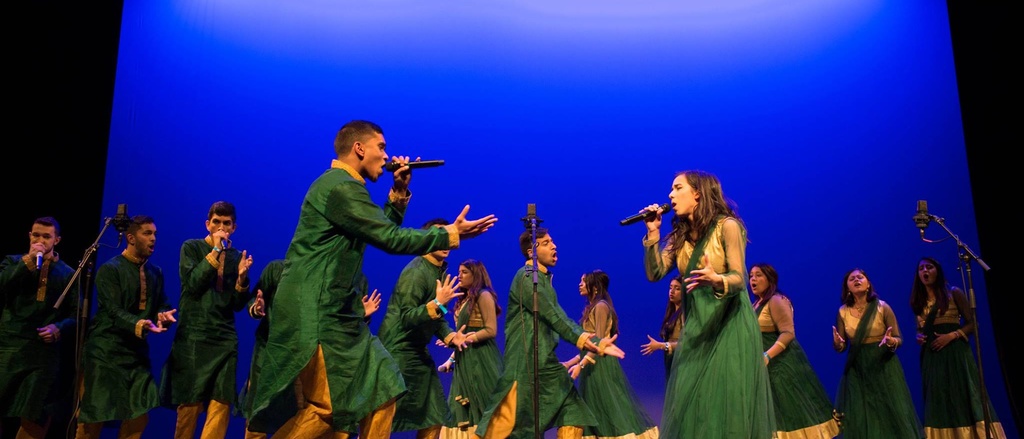 University of Iowa's Indian Student Alliance proudly presents its South Asian A'Cappella competition, Gathe Raho. This is an elite competition challenging teams from across the nation to produce creative, unique medleys, blending Hindi songs from a wide array of Bollywood music with English songs ranging from classics to trending American pop. 
Gathe Raho is a phenomenal performance of the top selected six South Asian A'Cappella teams that will compete for a total of $3000 in prize money. The Indian Student Alliance will host its 14th annual and second-ever Virtual Gathe Raho on April 2nd, 2022.
When: Saturday, April 2, 7 pm CST
Where: YouTube (Livestream Link! You can also search Gathe Raho 2022 and the Gathe Raho channel to find it)
For questions, please contact our Gathe Raho director: Prateek Raikwar (prateek-raikwar@uiowa.edu).
Individuals with disabilities are encouraged to attend all University of Iowa-sponsored events. If you are a person with a disability who requires a reasonable accommodation in order to participate in this program, please contact Shriya Nangia in advance at shriya-nangia@uiowa.edu.
Check out our social media for updates:
---
Previous Gathe Raho videos
Gathe Raho 2021
Gathe Raho 2020
ISA IDRF Video 2020
Gathe Raho 2017
(Thank you Crisp Media Chicago for our 2017 videos!)
Gathe Raho 2016
(Thank you Crisp Media Chicago for our 2016 videos!)
Gathe Raho 2015